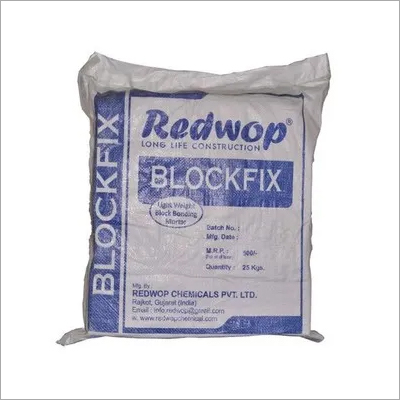 Blockfix
Product Code : CCB
Product Description
We are creating a brand name in every part of the national market by offering our clients Blockfix. It is a versatile jointing material for joining AAC blocks, fly ash bricks and concrete blocks. Our expert workforce uses quality grade cement and additives to process this admixture. It is ideal to provide stronger, much more durable bonding between the blocks with superior adhesive strength. Blockfix can replace conventional cement and sand mix mortar. We offer this admixture at reasonable prices.
Features:
Excellent adhesion
Easy to apply
Resistant to UV and water

FEATURES :
Blockfix is made from a unique combination of cement, graded sand and proprietary additives.

The unique chemical combination enables this mortar to be more compact, thinner and stronger.

At only 3 mm thick, it is far thinner than the conventional mortar which is between 12-18 mm.

Being pre-mixed it is easy to use and also ensures the compaction of interlocking bricks making the bonds tougher and more durable.
BENEFITS :
Thinner jointing material with very high adhesion strength. Improves overall masonry strength.

Pre-mixed and ready to use. Only water is to be mixed at site.

Eliminates lengthy process of site mixing, transport and storage of all individual materials.

No water curing is required after application.

Easy to mix. Much faster to apply due to its superior flowability and water retention properties.

Thinner layer of application for lesser shrinkage and seamless structure.

Economical - quantity of mortar is far less than conventional mortar.

Seepage/water percolation through joints is negligible due to better binding of mortar with masonry units.

Ready for subsequent application like plastering just after 24 hours of application.

Raking of joints is not required before plastering.

Raw materials are processed, reducing the chances of efflorescence.

Blockfix is made from eco-friendly materials.
Contact Us
Pearl Plaza complex, Second Floor, B/h G.T Sheth School, 150 Ft Ring Road, Near KKV hall, Rajkot, Gujarat, 360005, India
Phone :+918068345018