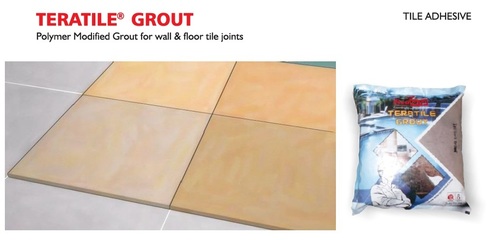 Polymer Tile Grout
Product Description
Uses:
TERATILEGROUT is high quality joint filler for filling the tile joints so as to createstrong long-lasting tile joints.
Advantages:
· · · · ·
Description:
TERATILEGROUT is composed of special cements, organic additives and pigments. Itrequires only the addition of water on site. TERATILE GROUT can simply beapplied with putty blade to obtain desired filling.
Application instructions
Mixing: Add one part of water to 3 parts powder byvolume. Mix well, to get a smooth and uniform paste. Fill and tool the abovematerial firmly in the tile joints with a spatula, without any breaks or voids.Use the mixed material within 20 minutes after mixing.
Tooling: Tool the above material firmly in the tile jointswith a spatula without any breaks or voids.
Finishing:After the initial set of thematerial (2 hours) remove the excess material on the tile edges with a wetcloth or damp sponge. Tile joints should be done with TERATILE GROUT only after24 hours of fixing tiles.
Estimating
Packaging:TERATILEGROUT is packed in 500gm, 1kg pouch & 20 kg bag.

1 kg material at 3mm tile gapwidth and a depth of 5mm will cover 49 running meters. This coverage is onlyfor guidance. The actual coverage will depend on site conditions. Maximum tilegap width should not be more than 5mm.
Supply TERATILE GROUT is supplied in range ofcolors.
TERATILE GROUT has a shelf life of 12 months ifkept in a cool and dry place in unopened bags.
Precautions
Health& Safety: TERATILEGROUT is special cement based material. Care should be taken to avoidinhalation of dust and contact with skin and eyes during use.
Contact Us
Pearl Plaza complex, Second Floor, B/h G.T Sheth School, 150 Ft Ring Road, Near KKV hall, Rajkot, Gujarat, 360005, India
Phone :+918037400279