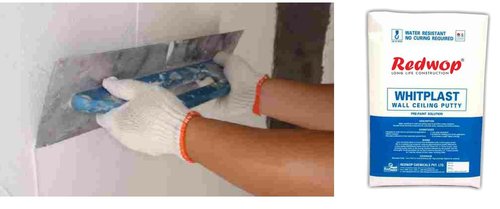 Whiteplast
Product Description
Whiteplast:-
Application Area
• Wall outer and inside
• RCC Ceiling area
Features
• To provide a water-resistant, smooth finish leveling
compound for concrete walls, masonry and brick surfaces.
• Suitable for both Internal and external applications
• Water-resistant
• Excellent adhesion to host substrate
• Smooth finish
• Low water absorption
• Suitable for leveling prior to the application of oil based or
water based paints coating
Coverage
300ft2 per 20kg bag @ 300micron thickness
Application Works
Care should be taken to ensure that WHITPLAST PUTTY is thoroughly mixed. Mix in a suitable size container using an approved spiral paddle attached to a slow speed (400/500rpm) heavy-duty drill. Place 4.8 - 5.1 litres of cool, clean drinking quality water in the mixing container followed by the powder and mix thoroughly. Small quantities can be hand mixed by blending 2.5 - 3 parts powder to 1 part by volume of cool, clean, drinking water.
Pack size
1, 5, 20, 40kg bag
Contact Us
Pearl Plaza complex, Second Floor, B/h G.T Sheth School, 150 Ft Ring Road, Near KKV hall, Rajkot, Gujarat, 360005, India
Phone :91-281-2576664